Wear it with
Size & Fit
Shipping & Returns
Delivery
If you can't wait to get your hands on some fashion we offer a range of options including London same day, European standard and worldwide express delivery. Click herefor delivery options by destination.
Duties & Taxes
Duties are included in the price you pay with us for many countries. See if yours is eligible here.
Returns
We offer a Free Returns Collection Service so you can breathe easy when ordering. For more about our Returns Policy click here.
Zadig & Voltaire Deluxe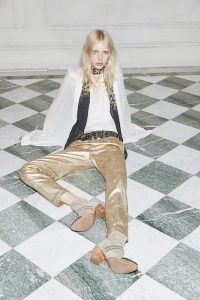 The Deluxe range by Zadig & Voltaire offers extraordinary pieces with precise lines and fine materials. Ranging from tops,dresses,pants and limited edition collection, the Deluxe edition offers an exclusive insider to the most desired and high quality pieces. Elevated in quality, extraordinary fabrics and luxe detailing, make each item has it's uniqueness.
Shop all Zadig & Voltaire Deluxe