Navy Oversized Logo Scarf
Wear it with
Description
Add a new tone to your winter casuals with this Hackett woolen scarf.Featuring a multi-pattern design with signature branding completed in a bold, oversized style with twisted effect fringe detailing on ends.
REF: 119HM042048
Shipping & Returns
Cyprus: FREE-Collection at Travel Express or Stores
European Union: €20
Rest of the World:€30
Import Duties & Taxes:
Any taxation or import duties upon the receival of Non-EU countries will be imposed on the buyer. Returned goods shipping is at buyers cost.
For more please take a look at our  SHIPPING & DELIVERY  and RETURNS & REFUNDS information pages.
Hackett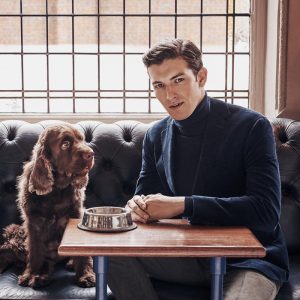 Jeremy Hackett became fascinated by the quintessential British attire of the early 20th century gentleman, as he was working in Saville Row in the 60's.In 1983 he opened his first store selling second hand clothing in Chelsea, merging traditional styles with a contemporary twist. The store looks like a well refined boutique and not like a second hand shop. Soon after that, the shop showed great appreciation and sales and so Mr. Jeremy opened one shop right next to the first. This is how the brand had been born. Since then, Hackett has grown to sit at the forefront of traditionally-inspired menswear, with dedicated global following and great shopping destinations in London and Mayfair.
Shop all Hackett